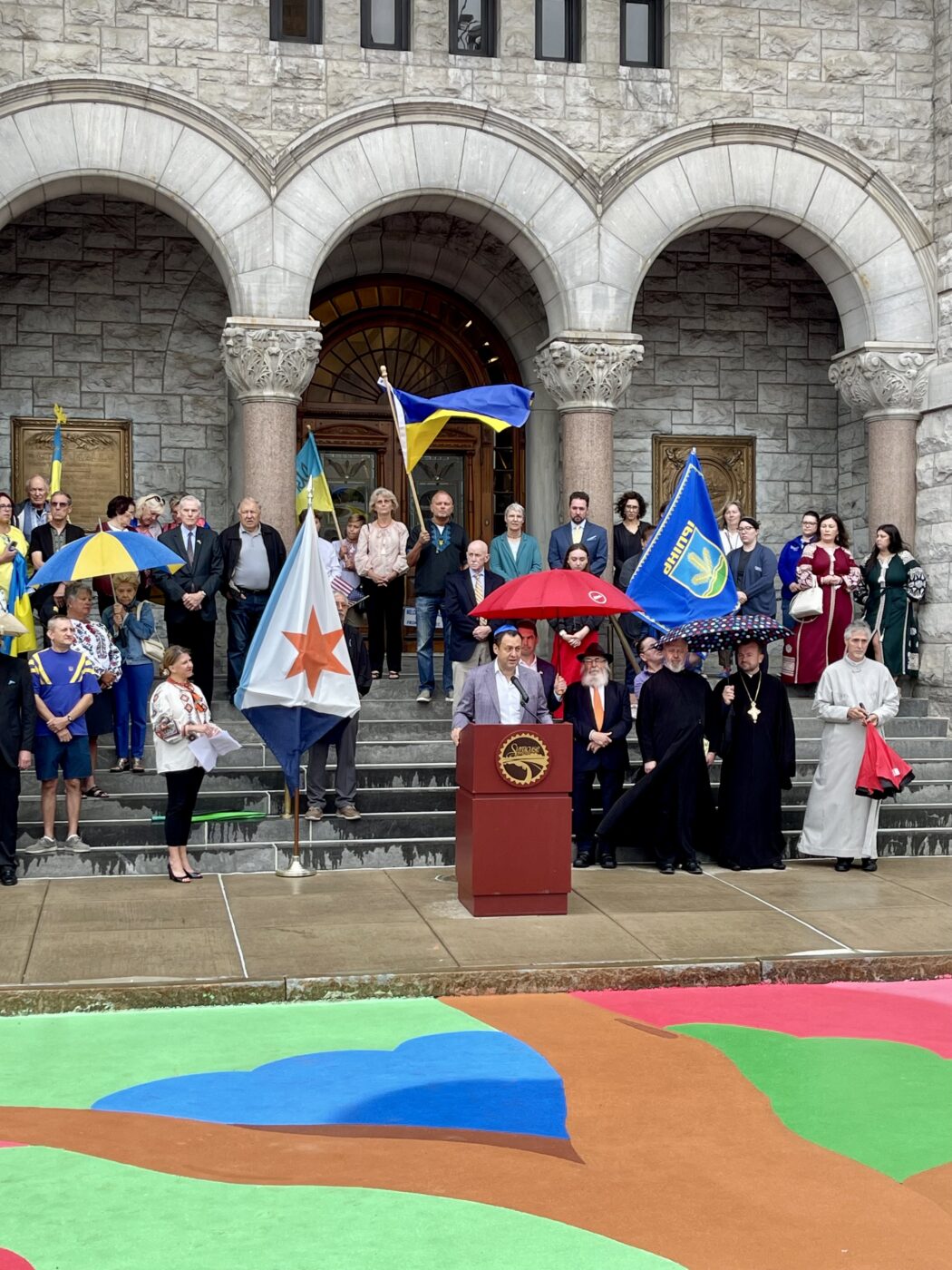 On August 24th, we gathered at Syracuse City Hall to celebrate Ukrainian Independence Day, filled with inspiration and unity. Gennady Bratslavky, co-founder of the Ukraine 1991 Foundation, delivered a powerful speech that captured the essence of the Ukrainian spirit.
During his speech, Mr. Bratslavky shared a heartwarming story that showcased the incredible resilience and compassion of Ukrainians, even in the face of adversity. Earlier that morning, he received a call from Mayor Oleksandr Markushyn of Irpin, Ukraine. What was remarkable was that this call came after Russian forces' violent morning attack on Irpin.
Mayor Markushyn didn't just discuss the situation in Ukraine; he asked about Gennady's family in Syracuse and even expressed concern for the Mayor of Syracuse. This gesture of care and solidarity amid a crisis highlighted the profound sense of community that defines Ukrainians.
This story is a poignant reminder of the strong bonds connecting Ukrainians in their homeland and abroad. It shows that no matter the circumstances, Ukrainians always come together to support one another.
Ukrainian Independence Day marks the Declaration of Independence in 1991 and is a testament to Ukraine's commitment to freedom and unity. The event at Syracuse City Hall demonstrated that the Ukrainian spirit remains unbreakable, both within Ukraine and among the global Ukrainian community.
As we commemorate this particular day, let us draw inspiration from Mayor Markushyn's call and the unity it represents. Together, we can continue to support and uplift the Ukrainian community, reaffirming our dedication to the principles of freedom and independence at the core of our shared heritage.

Support our Cause
Our goal is to increase donations to Ukraine and ensure the efficiency and transparency of their distribution.